Happy new year!  We will be continuing our monthly 'Spotlight' in 2019.  This is a great opportunity for Carbon Desktop users to share their project successes.
Our first 'Spotlight' of the year goes to Gatot Wahyudi and Wawan Kurniawan at PZ Cussons:
PZ Cussons is a FTSE250 listed consumer goods business, headquartered in Manchester, UK.  They employ nearly 3,000 people across operations in Europe, North America, Asia-Pacific and Africa.  They create products across core categories of Hygiene, Baby and Beauty. 
PZ Cussons Tangerang installed Carbon Desktop which helped them to reduce their total site utility cost by a massive 25%.
Steam reduction
After using Carbon Desktop to identify that 85% of the steam was used in the seam ejector, the site team drilled into this data to optimise this asset.  They installed automatic valves, adjusted the vacuum conditions and repaired identified leaks.  This resulted in a 30% reduction in site gas use which was verified in Carbon Desktop and on the site utility bills.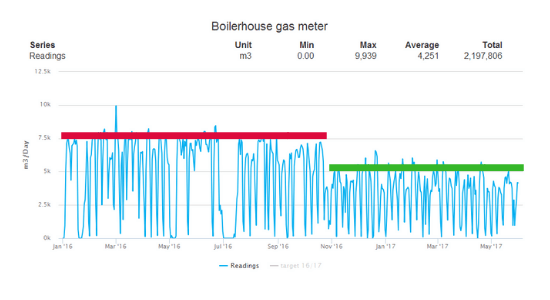 Electricity reduction
Using Carbon Desktop's virtual meters, the site team identified that compressed air makes up a significant proportion of the total site electrical load.  Savings could be accurately projected for a number of improvement measures, which supported the business case for this investment.  Air leaks were fixed, a VSD compressor installed and compressors sequenced through a central control system.  These measures achieved a 27% reduction in the electricity used by the site air compressors.
Carbon Desktop enables effective monitoring and targeting so that positive action can be taken.
Would you like to feature your Carbon Desktop project in the next Spotlight?  Click here to be considered and briefly tell us:
-The nature of your project
-How Carbon Desktop was used
-The results that you achieved
Our next spotlight will be announced here on 7th February and the project will be shared on our news page, edie page and via Linkedin and Twitter.